Azure Watch (2017 -2018)
With Mary Attard, Johannes Buch, Andrew Pace, and Letta Shtohryn.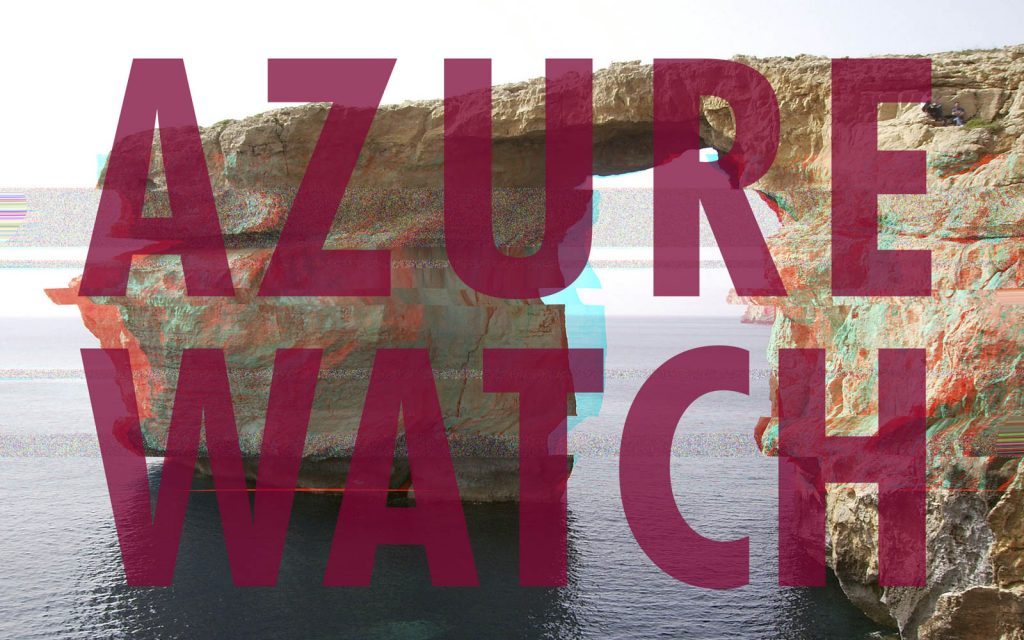 "Azure Watch was conceived in order to begin a collective, multimedia archive of the Azure Window and the surrounding landscape that will remain available for consultation and the possible future implementation by the Gozitan community. 
The Azure Window limestone arch was one of Gozo's most famous landmarks, but it dramatically collapsed into the sea after a heavy storm early this year [March 8th 2017 – Ed. ], attracting intense media coverage from across the world. The imagery of the Azure Window now remaining online shows a standardized iconography that could become the only future memory of the Gozo landmark. In order to avoid such homologation and loss of identity, a common action is taking place through Azure Watch. The collapse of the world famous Azure Window has had important consequences for the iconography and the topographic memory of Gozo landscape; Azure Watch is documenting this change in identity.
The team of dedicated volunteers, the Azure Watch Group, has been working closely with Fanizza to research, collate and digitise the Window's iconography, while a large number of community members have contributed material to the project."
(Television Malta website)
A video-manifesto was launched on September 4th 2017 to invite local artists and citizens to participate in the process.
Azure Watch call for action
Edit by Giuseppe Fanizza
The Azure Watch working group, made up of local citizens, artists and researchers, collected, edited and produced various materials including circa 100 images, 2 video edits containing both original and public domain materials, paintings, pottery, and mixed media works.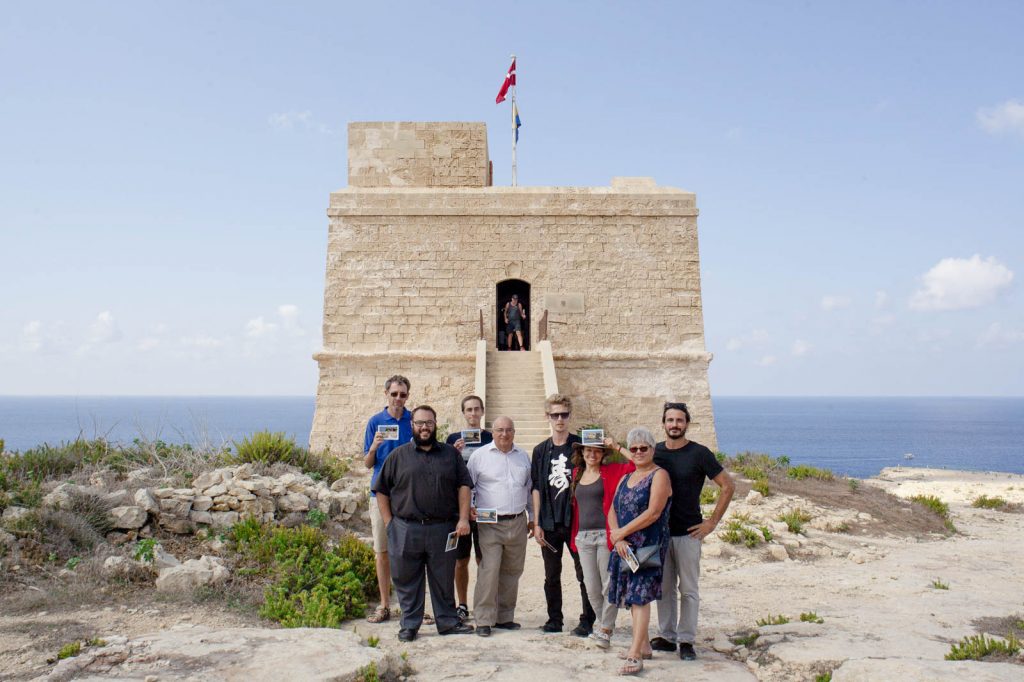 The image collection is edited by Mary Attard, Andrew Pace, Johannes Buch and Giuseppe Fanizza and includes photos by Mary Attard, Josephen Bailey, Daniela Bertolini, Alda Bugeja, Dorota Gromek, Katarzyna Kryszk, Merga Cordina, Attila Demeter, Yarushka Li, Austin Gragg, Diana Cristalova, Nace Sapundjiev, Alessandro Lai, Andrei Dumitriu, Rich McCor, Ian Holmes, Brian Cassar, Damian Ebejer, Greta Ellul, Sonia Di Vaio, Sandra Barkovic?, Fritz Weinsberg, Marie Calloch, Quynh Pham, Pukar Shakya, DePaseoX, Joe Janman, Yiqun Wang, Campbell Kerr, Ian Holmes, Life Plus Style Fitness, Livia Pye, Bea Kunysz, Ton Garcia, Nick Atkinson, Lino Mifsud, Paula Hubner, Monica Gergely, Lucas Mateo Cardoso, Patty Fryer, Aline Krzisch, Viola Saliasi.
Azure Watch (senza titolo), 2017
Camera by Giuseppe Fanizza e Johannes Buch
Editing by Giuseppe Fanizza
16'28''
Azure Watch (Appropriation), 2017
Editing by Andrew Pace
24'19''
The research process was presented in two participative exhibitions, including works from local artists and artesans (please visit Azure Watch Facebook Page), at Dwejra Tower, San Lawrenz, Gozo, from September 30th to October 29th 2017 and at Gabriel Caruana Foundation, Birkirkara, Malta from March 22nd to April 11th.
Editing by Giuseppe Fanizza
1'26"
Appropriation of scenes from "Clash of Titans" (1981).
Music: Renato, "Ma Nichdek Qatt".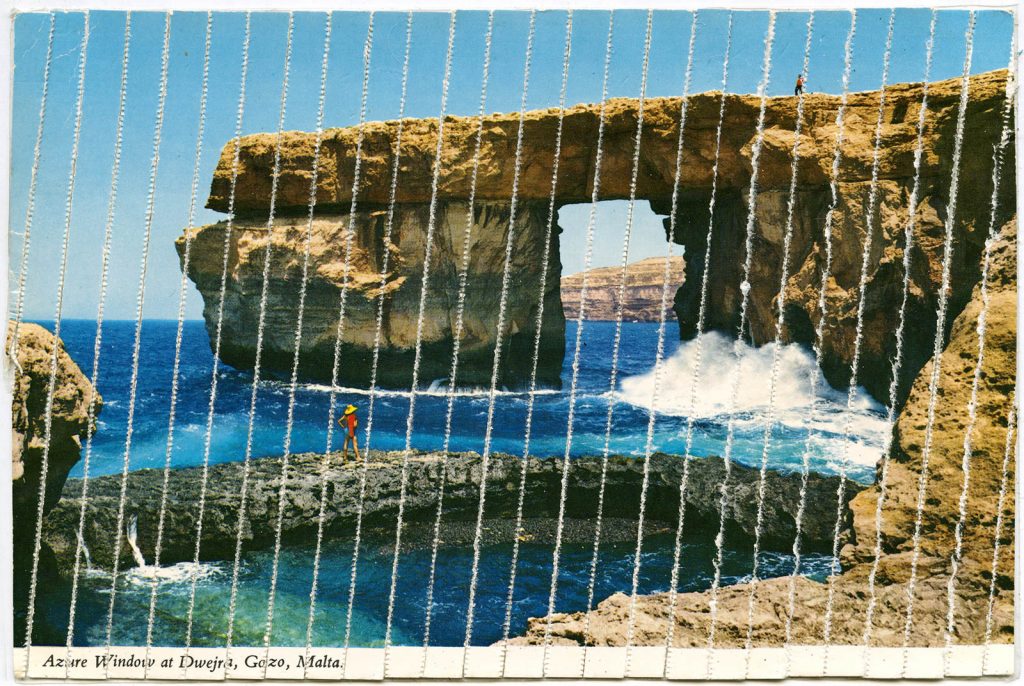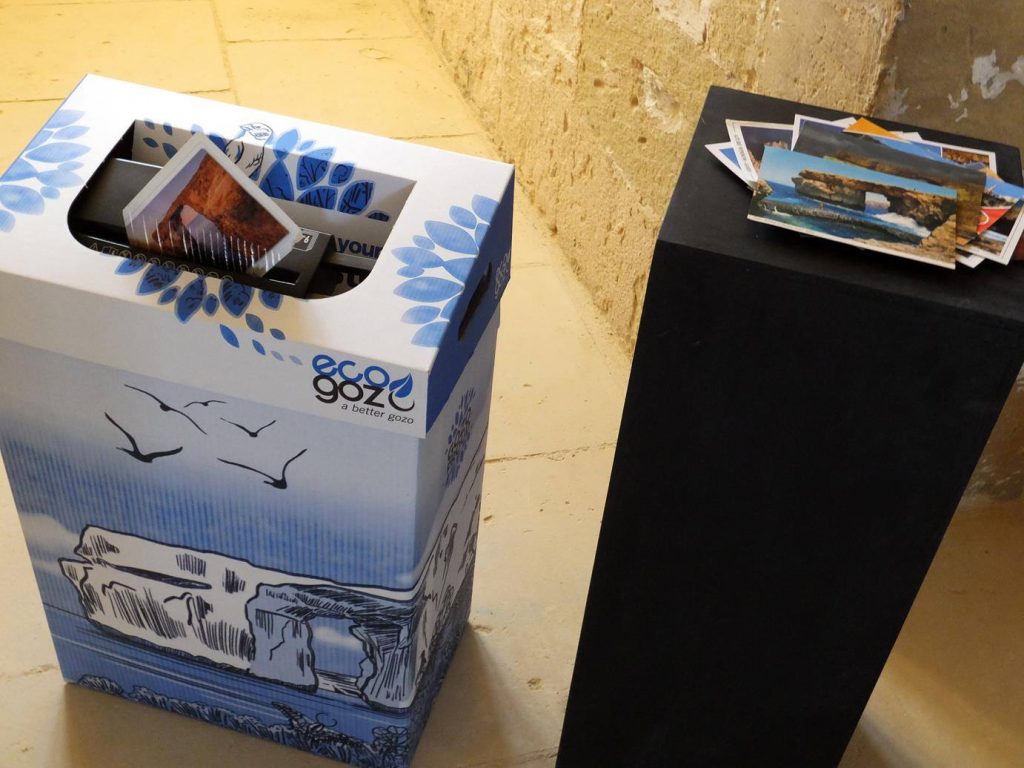 Azure Watch is produced by Spazju Kreattiv, Malta's national centre for creativity and Gabriel Caruana Foundation, with the support of Roberto Cimetta Fund.